Dra. Claudia Bregonzio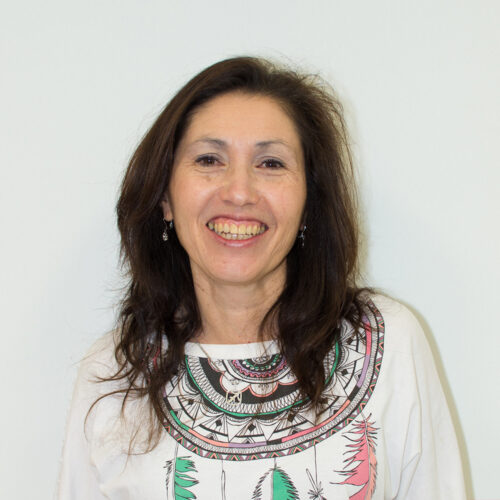 Cargo
Investigadora Independiente CONICET - Profesora Asociada UNC
Contacto
claubregonzio@unc.edu.ar
Líneas de investigación
Rol de Angiotensina II Cerebral en las Neuroadaptaciones Inducidas por Drogas Psicoactivas
Publicaciones de los últimos 5 años
Bregonzio, C., Eyal, S., Erdő, F., & Pérez, M. F. (2022). Women in drug metabolism and transport: 2021. Frontiers in Pharmacology, 13. doi: 10.3389/fphar.2022.966797
Occhieppo, V. B., Basmadjian, O. M., Marchese, N. A., Jaime, A., Pérez, M. F., Baiardi, G., & Bregonzio, C. (2022). Schizophrenia-like endurable behavioral and neuroadaptive changes induced by ketamine administration involve Angiotensin II AT1 receptor. Behavioural Brain Research, 425, 113809. doi: 10.1016/j.bbr.2022.113809
Pennacchio, G. E., Santonja, F. E., Neira, F. J., Bregonzio, C., & Soaje, M. (2022). Prenatal Amphetamine-Induced Dopaminergic Alteration in a Gender-and Estrogen-Dependent Manner. Neurochemical Research, 47(5), 1317-1328. doi: 10.1007/s11064-022-03531-1
Bregonzio, C. (2022). Angiotensin‐converting enzyme inhibitors stimulate cerebral arteriogenesis. Acta Physiologica, 234(2), e13765. doi: 10.1111/apha.13765
Pérez, M. F., Saravia, F., Castro, M. G., & Bregonzio, C. (2021). Targeting Neuroinflammation in Central Nervous System Disorders: Uncovering Mechanisms, Pharmacological Targets, and Neuropharmaceutical Developments. Frontiers in Pharmacology, 12. doi: 10.3389/fphar.2021.771610
Fernández, G., Krapacher, F., Ferreras, S., Quassollo, G., Mari, M. M., Pisano, M. V., … & Paglini, M. G. (2021). Lack of Cdk5 activity is involved on Dopamine Transporter expression and function: Evidences from an animal model of Attention-Deficit Hyperactivity Disorder. Experimental Neurology, 346, 113866. doi: 10.1016/j.expneurol.2021.113866
Basmadjian, O. M., Occhieppo, V. B., Marchese, N. A., Silvero C, M. J., Becerra, M. C., Baiardi, G., & Bregonzio, C. (2021). Amphetamine induces oxidative stress, glial activation and transient angiogenesis in prefrontal cortex via AT1-R. Frontiers in Pharmacology, 842. doi: 10.3389/fphar.2021.647747
Occhieppo VB, Basmadjian OM, and Bregonzio C (2021) Brain Angiotensin II in dopaminergic imbalance-derived pathologies: neuroinflammation and vascular responses. Perspective article in Neural Regeneration Research 16(3):504-505. doi: 10.4103/1673-5374.293144.
Occhieppo VB, Basmadjian OM, Marchese NA, Silvero C MJ, Rodríguez A, Armonelli S, Becerra MC, Baiardi G, BREGONZIO C (2021) AT1-R is involved in the development of long-lasting, region-dependent and oxidative stress-independent astrocyte morphological alterations induced by Ketamine. Eur J Neurosci Eur J Neurosci 54(5):5705-5716. doi: 10.1111/ejn.14756.
Marchese NA, Occhieppo VB, Basmadjian OM, Casarsa BS, Baiardi G; BREGONZIO C (2020). Angiotensin II modulates amphetamine-induced glial and brain vascular responses via AT1 receptors: evidence from brain regional sensitivity to amphetamine. Eur J Neurosci 51(4):1026-1041. doi: 10.1111/ejn.14605.
Artur de la Villarmois E, Constantin MF, BREGONZIO C, Pérez MF (2018). Diazepam Withdrawal Expression is related to Hippocampal NOS-1 Upregulation. Arch Pharm Pharma Sci 2(1): 001-009. https://www.heighpubs.org/hps/abstract.php?id=apps-aid1006
Occhieppo VB, Marchese NA, Rodríguez ID, Basmadjian OM, Baiardi G; BREGONZIO C (2017). Neurovascular unit alteration in somatosensory cortex and enhancement of thermal nociception induced by amphetamine involves central AT1 receptor activation. Eur J Neurosci 45(12):1586-1593. doi: 10.1111/ejn.13594.
Descargar CV